Our "Four" main service goals are to provide;

1) Consistent Service - many companies can obtain a contract, only consistent service on a daily basis will retain that contract.

2) Integrity and Value - we understand that we are "guests" in the facilities that we service. With that humble status in mind, we must always strive to respect the building, its owners and occupants.

3) Professionalism - we feel that your janitorial service provider should represent themselves as you do to your tenants - in acceptable business attire and the use of appropriate business manners.

4) Communication - via constant "follow-up" with clients and tenants. This includes not only reactive responses but also proactive initiative (i.e. address a potential problem before it becomes a problem).

This statement is posted in the janitor's closet at all of the facilities we service for the pursuit of excellence in service!

Back to Top
Operations
This section will describe in detail how we expect your facilities to be cleaned on a nightly basis:

Generally, we intend to clean your building Monday through Friday nights. The majority of the cleaning will be performed from 5:30 p.m. to 9:00 p.m. on those days. The supervisors may stay longer to perform inspections and special cleaning projects. However, they are trained to make sure all lights are off on the floors they are not working on at 9:00 p.m. for utility expense purposes.



Please note that the labor for the facility includes separate, on-site supervisors. These individuals are experienced in management, paid based on salary and receive full company benefits (paid vacation, sick leave, health insurance, etc...). This is important to you because we believe that if the supervisors are completely reliant on their job with FCSC for their family's livelihood, then they will perform their jobs to the highest standards possible.

FCSC requires all of our part-time night cleaners to have full-time day jobs. This enables us to hire motivated people looking to supplement their income versus people possibly having ulterior motives (such as theft) working in your facility.

All employees are provided with and must visibly wear FCSC's Color Identification Badges at all times. This provides considerable additional security to your building and its tenants. If your occupants have a question about a person in the building, then they will immediately be able to identify whether this person is an employee of FCSC! These badges also double as the employee's electronic time card which allows us to track to the minute each employee's time spent in your building! Additionally, FCSC can provide your company a weekly Color Employee Directory, by building. This reference is very useful in the event a question arises that requires a picture identification.

All employees are required to wear cleaning aprons or smocks while working in the building. This requirement adds to the professional appearance of our employees while cleaning the facility. Security issues and your occupants' "comfort levels" are also enhanced.

Administration
We occupy two separate office spaces in the TCBY Tower. Our main, daytime administrative office is fully staffed and its telephone number is 501-372-6577, which is answered from 8:00 a.m. until 5:00 p.m. Monday through Friday. Our secondary personnel office is also fully staffed and its telephone number is 501-374-2377, which is answered from 2:00 p.m. until 11:00 p.m. Monday through Friday. Of course, you will be provided contact numbers to the owners for 24 hour/7 day per week access should any special needs arise.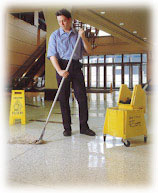 Together, our administrative and personnel offices staff a total of eight full-time personnel. The owners are completely active and involved in all daily operations and administration. Their standards and expertise are taught and utilized by all management and laborers. The office staff has a combined 83 years of commercial janitorial work experience.

The company currently employs 300 workers (30 full-time and 270 part-time). FCSC performs criminal-background checks on all applicants. Driving records are required and business and personal references are called as part of the pre-employment process.

With your permission, our office faxes quality control sheets on a monthly basis to your occupants. These "HOW ARE WE DOING?" sheets have proven to be invaluable tools that have helped us to virtually eliminate routine complaints. This type of direct communication with the tenant creates a feeling of teamwork and greatly reduces minor complaint calls that typically plague management companies.

FCSC has a comprehensive training program which includes training videos, written exams, and interactive field training performed by the building supervisors. No employees are just "let loose" in your facility without proper safety and operations training.

Back to Top
Safety and Sanitation
FCSC has a structured and methodical Safety and Sanitation Training Program that is unparalleled in today's marketplace.
Pre-employment (hiring) Procedure - all applicants are required to pass a written Safety Examination. This quick but effective exam consists of ten "True/False" and Multiple-Choice questions. It helps serve to identify potentially uncaring and lazy employees that if, otherwise hired, could become a safety liability to themselves and those around them.
Employment Acknowledgment Procedure - once an applicant has successfully passed their criminal background checks, written Safety Examination, and various other criteria, they are then required to view a professionally-made Cleaning and Safety educational video cassette tape. This tape is 20 minutes long and was produced by the BSCAI (Building Services Contractor Association International). It touches on virtually all aspects of cleaning and safety issues in the workplace. This video is a most valuable tool when used in conjunction with our Personalized Training Procedures (as discussed below).
Personalized Training Procedures - in any successful organization, Training should begin from the Top-Down. At FCSC the founders of the company are actively involved in the daily operations of the business. They personally ensure that their "Cleaning and Safety Philosophies" are taught to all nighttime building operations managers and all daytime account managers. These personnel then train their assistants accordingly, who then train the actual cleaning personnel. Top-Down Training is one of the Keys to our service.
The New Employees' 1st Five Days on the Job - employees are personally trained for their first five days on the job. This way the employee knows what is expected of them and the supervisors know what to expect from the employee. It is during this time that we evaluate and determine if the employee is a right fit for your facility and our organization.
Ongoing Quality-Assurance Evaluations - we more than adequately staff each building with the proper amount of Quality-Assurance Inspectors and Supervisors. This gives FCSC the capability to check the quality of the work and the action of the employees during the work-shift. It is always preferable to point out any deficiencies found to the employees while they are working so they can correct it immediately. This type of Proactive procedure helps to eliminate problems before they can occur.

Back to Top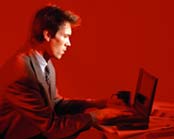 Technology Uses and Benefits
FCSC is proud to be on the "cutting edge" of the technology revolution. We utilize technology to make us "A Better Cleaning Company" in literally all aspects of our business.
Below, we discuss how technology improves our service to our customers.
Operational Uses - FCSC utilizes electronic time clocks at all our facilities. Each night all employee's time punches are posted to the server computer in our office.
Operational Benefits to our Customers - The server computer contains the software that allows us to review all times worked by employees in REAL TIME! In this way, we can determine immediately if there is a potential problem.
Example: we note in real time that an employee possibly did not stay long enough to perform the work properly. This alerts us to the fact we need to closely check the quality of the work performed by that employee. Any problem can then be corrected before the customer comes to work the next morning!
Administrative Uses - FCSC utilizes a company internet website. This program functions as an interactive management tool for improved communication via REAL TIME work order processing!
Administrative Benefits to our Customers - work order items (e.g. requests, complaints, maintenance issues, etc.) can be more efficiently communicated between all parties!
Example: you contact us with a work order item (via e-mail, phone, fax, meeting, etc.) that must be completed properly that night. We simply enter the work order item in our web site's work order program and it is immediately accessible to all parties necessary. Since all facilities have access to one of our computers, our night crew gets the message and the job gets done right!




Example: there is an electronic "information trail" created for each work order item that makes all parties accountable for future review. And the best part is that our customers can access our worldwide web site and check the status of ANY contract specification, request or complaint! You can even directly input an item into our work order program from your own office computer!
These are just a few of the many examples of how Technology has made us "A Better Cleaning Company" for our Customers!